Books:

Loving without Spoiling

Samalin reveals her best tips and strategies for raising an unspoiled child without overexplaining, nagging,
bribing and threatening to get them to do what you want.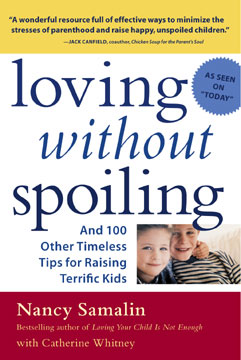 We all want to raise children who are caring, compassionate, honest, and responsible. In LOVING WITHOUT SPOILING: And 100 Other Timeless Tips for Raising Terrific Kids, best-selling author Nancy Samalin will help you find better ways to set loving limits without spoiling or overindulging your child. This book was designed for busy parents and is filled with brief and very practical solutions for any concerns a parent might face.
Order this book now at


Order this Kindle eBook at

"I've been re-reading LWOS & continue to be amazed at all the thoughts from the book I've taken to heart. So many tips I've tried...so many anecdotes I've repeated to friends...so much good stuff I've internalized. In fact, I've realized that many of your thoughts have become my thoughts...re-reading the book is like hearing myself talk. Thank you for every word you've written!"
LOVING WITHOUT SPOILING includes these how to tips:
• Avoid Power Struggles: Tip #3: Survive The Public Meltdown
• Minimize Daily Stress: Tip #12: Eliminate Fighting Over Food
• Lend Support Without Hovering: Tip #22: Don't Be A Helicopter Parent
• Show Love Without Spoiling: Tip #30: Cure The Gimmies
• Open Communication Channels: Tip #41: Avoid Red-Flag Words
• Use Positive Discipline: Tip #50: Spare The Rod
• Develop Sibling Harmony: Tip #63: Don't Even Try To Be Fair
• Teach Social Skills: Tip #68: Curb Your Rude Dude and Tip #74: Beat The "Everybody Else" Syndrome
• Build Self Esteem: Tip #80: Create A Bug Brag List; Tip #83: Appreciate Your Challenging Child
• Strengthen Parenting Skills: Tip #90: Ignore Your Critics; Tip #99: Lighten Up

Interested in some Tips on on how to Stop Spoiling? Check out these free articles written by Nancy.


A writers review of
"Loving Without Spoiling…
And 100 Other Timeless Tips
for Raising Terrific Kids."
Comments from readers at Amazon.com:
Exactly what the title says...and it works!
Reviewer: D. Bryant

I read this book a few months ago and immediately took it to heart. It absolutely changed the way I think about discipline. The most interesting thing is that recently, I picked it up to browse through again, and was amazed at all the thoughts from the book that I have adopted as my own. So many tips I've used...so many anecdotes I've repeated to friends...so much GOOD STUFF that I've internalized since I read it the first time.
I've never found one parenting book that has all the answers. In fact, the longer I'm a parent, the more convinced I am that there are no clear-cut instructions on discipline that are right for every child. But this book -- with its wonderful anecdotes, sample dialogues and calm, pragmatic suggestions -- is the one book I recommend above all others. I certainly wish my parents had read it.
The best quick reference book on parenting
Reviewer: Nancy Kelem
This book has become my most often referenced parenting book. Its format is ideal for 3-minute refresher courses on strategies. Today, I just re-read "End Morning Madness" and "Jump-Start the Dawdler" to help get ready for the first week of school. When you feel like there must be a better way to deal with a situation, but you are too stressed, distracted, or busy to calmly think it through, give yourself a time-out and run for this book.
A wonderful book for parents
Reviewer: Maureen Murphy, The Children's School in Stamford, CT
This is the book I would like to hand every new parent as they begin their journey. Nancy Samalin has provided a map for parents to help them navigate the bumps and blind curves on the road to raising happy, responsible children. Experienced parents will recognize and appreciate the jewels of wisdom in this practical and wise guide to parenting.
I am a better parent because of Nancy Samalin!
Reviewer: Amy Bean
I highly recommend this and all of Nancy Samalin's invaluable parenting books. When I became a mom I looked to various popular books for information and advice, and quickly found that nothing can compare to Samalin's practical and compassionate approach. She clearly understands the frustrations -- large and small -- involved in everyday parenting situations, and shows how parents can address them in a way that fosters good behavior and builds an environment of respect within the family. Parents of children at any age will benefit tremendously from reading "Loving Without Spoiling." Great baby shower gift, too!
A parent's dream come true.
Reviewer: Julia Randall, working mom
Loving Without Spoiling is ideal and invaluable in addressing our issues and questions in a concise and thoughtful format. The quick reference guide is briliant and each chapter a gem.
The flat-out best parenting book I have read!
Reviewer: Jay Leon, head of Jay Leon Learning Programs
"Loving Without Spoiling" is flat-out the best book I have read on how to help parents! I can tell from Nancy's writing that she has "been in the trenches". Her practical, down-to-earth tips are written in such a light-hearted, loving way that it is well-nigh impossible to not come away from reading this book both inspired and motivated to embrace my relationships fully with the children in my life. Nancy is both a messenger of good will and true hope for the many parents who struggle daily in their challenges with their children. In short, this book is a true blessing!
Check out these and other reviews at Amazon.com .