Books:

Love and Anger
the parental dilemma

The first book of its kind to talk about parental anger!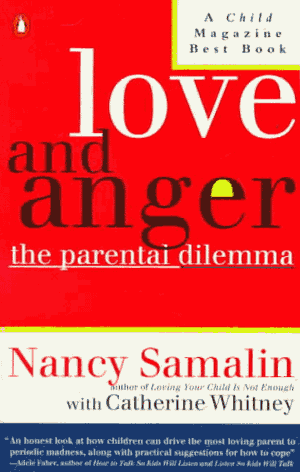 Viking Penguin published Nancy's second book, LOVE AND ANGER: The Parental Dilemma to teach parents how to express anger without hurting or insulting children. This invaluable book has been translated into many languages including Spanish, Italian, French, Portuguese, Chinese and many more. Love and Anger was chosen by Child Magazine as the best parenting book of the year.
In this book, Nancy explores anger, the most treacherous area of parent-child relationships. Her goal is not to eliminate anger -- which is normal and inevitable -- but to help parents express it without hurting their children. Samalin identifies the hidden triggers that generate frustration and fury in even the most well-meaning parents, provides alternatives to hitting, bribing, and threatening.
Learn how and when to use these valuable parenting techniques:
Saying "I'm mad," not "You're bad"

Exiting instead of exploding

Expressing anger without hurting self-esteem

Getting out of the middle when kids fight

Restoring good feelings after a blowup
This book is an indispensable tool for guilt-free parenting -- one that will help you discipline your children lovingly, effectively, and consistently.
Buy the Kindle eBook at Amazon.com

Check out this free article from Nancy:
Eight Weapons in the War on Anger - fighting parental anger

Nancy offers parents & educators effective skills to handle their parental anger without hurting or insulting kids.

"An honest look at how children can drive even the most loving parent to periodic madness, along with practical suggestions on how to cope."
--Adele Faber, author of SIBLINGS WITHOUT RIVALRY
"Samalin has literally written THE book on parents and anger.
--Chicago Sun Times
Great tool for parents!, November 25, 2002
Reviewer: Just Another Mom
I just finished LOVE AND ANGER and I have to say it is going to save my life! I was acting like a complete ogre with my kids (8 and 11) and was feeling incredibly guilty about screwing them up for life. My joke with friends about the therapy my kids were destined for, "Well there's another hour on the couch for so and so," was not so funny any more. This book was the answer to my prayers. It has given me so many practical tips on how to react to my children in less angry ways. I am already finding myself listening and empathizing more with my kids' feelings. It is a must read for parents.
Amazing, tremendous read., October 28, 2002
Reviewer: Ken Elder
I am a father of 3 wonderful children but our relationship has been somewhat rocky at times. Samalin's book has not only helped me deal with my anger and feel less guilty but it has also greatly improved my relationship with all three of my kids. Samalin's book gives tons of practical examples of how to speak to your children in an affirmative rather than negative manner, and get them to do what you want without causing resentment. I've read this book twice and I plan to read it again so that I will continue to apply it's many useful concepts. Once you read this book you will definitely notice that you are more in control, calmer and can communicate with your children in a much more effective manner. This is by far the best book on parenting I have ever read and is an essential parenting resource.
Phenomenal Book, October 28, 2002
Reviewer: Chris Duncan
I believe this book is a must read for all parents. Nancy Samalin focuses on common triggers for anger towards our kids and provides numerous techniques for effectively dealing with that anger. One of the many things I found helpful was that it allowed me to step back, think for a moment, and then respond rather that simply react to stressful, anger inducing situations. As a result, I've found that I am yelling less and my son's outbursts have become much less frequent. Not only do I feel less guilty about my anger but now I know how to deal with it in a much more effective manner. I recommend it highly!
Don't miss these and other Rave Reviews at Amazon.com!