Books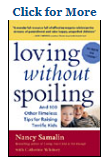 NOW AVAILABLE IN PAPERBACK and KINDLE eBOOK!
We all want to raise children who are caring, compassionate, honest, and responsible. In LOVING WITHOUT SPOILING: And 100 Other Timeless Tips for Raising Terrific Kids, best-selling author Nancy Samalin will help you find better ways to set loving limits without spoiling or overindulging your child.
"Kids come with a built-in gene: how to find a way to get parents to turn a no into a yes."
FEATURED ON

- How to Create a Spoiled Brat: 9 parenting No-No's
Buy the paperback book at Amazon.com
Buy the Kindle eBook at Amazon.com

"A wonderful resource full of effective ways to minimize the stresses of parenthood and raise, happy, unspoiled kids."
--Jack Canfield, Co-Author, CHICKEN SOUP FOR THE PARENT'S SOUL
"Nancy Samalin, a renowned parent educator, has written a truly remarkable book. "Loving Without Spoiling" is written in a down-to-earth style that is filled with wonderful, practical, realistic suggestions about issues and challenges faced by all parents. I was impressed not only by the wealth of information in the book but by the empathy and respect that Nancy conveys towards parents. I highly recommend "Loving Without Spoiling" for parents as well as all other adults involved with children."
--Dr. Robert Brooks, Clinical Psychologist, Harvard Medical School & co-author of RAISING RESILIENT CHILDREN and NURTURING RESILIENCE IN OUR CHILDREN.
"Wonderful advice with specific ideas to help in those frustrating parenting moments. Read it from cover to cover or flip through to find help with your problem-du-jour. Either way, these warmly shared words of advice will enrich your life as well as your parenting skills."
--Vicki Lansky, parenting author of books which include FEED ME I'M YOURS, GAMES BABIES PLAY and PRACTICAL PARENTING TIPS.
"Nancy Samalin's wonderfully wise book belies the notion that children don't come with an instruction manual. This is it! Her practical advice on setting loving limits takes parents well beyond discipline and provides lasting lessons in raising caring, confident kids."
--Ann Pleshette Murphy, ex editor-in-chief, Parents Magazine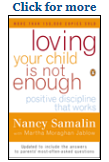 Nancy Samalin's first book, LOVING YOUR CHILD IS NOT ENOUGH: Positive Discipline that Works, is a best seller and ranks among the most popular books on positive discipline. It has attracted unanimous praise in the media since its publication by Viking Penguin.. It is also out in a newly revised updated edition. This book continues to be a perennial favorite among parents and educators. It has been translated into many languages and is available on audiotape and CD.
"It's amazing how the children we love so much for whom we would sacrifice anything can make us so mad we start to lose it." "Sometimes when my son is acting like an infuriating, provocative five year old, I become like a four year old myself."
Buy the Kindle eBook at Amazon.com

"Nancy's philosophy and methods are practical, straightforward and nurturing. I was so excited by her book that I asked my husband to read it. We now incorporate her positive discipline approach in our parenting and have a new-found love relationship with our children. It has made a dramatic difference in the atmosphere of our home."
--Janette Schaub, Ph.D.
"A child-rearing classic that belongs on the night table of every parent's home. [Samalin's] discipline advice, shared with wit and compassion, is absolutely brilliant."
--Ann Pleshette Murphy, Editor-in-Chief, PARENTS Magazine
"I did enjoy your book and am giving a copy to my daughter. I loved Ginott's ideas and you are a worthy successor. Bravo!"
--Dr. T. Berry Brazelton
Don't Miss more Rave Reviews at Amazon.com!

Viking Penguin published Nancy's second book, LOVE AND ANGER: The Parental Dilemma. It offers parents practical and concrete advice on how to express anger without hurting or insulting their children. This invaluable book has been translated into many languages and is now available on audiotape. It was chosen by Child Magazine as the best parenting book of the year.
"All loving parents get angry at their kids; the goal is to express it without hurting or insulting them."
Buy the Kindle eBook at Amazon.com

"An honest look at how children can drive even the most loving parent to periodic madness, along with practical suggestions on how to cope."
--Adele Faber, author of SIBLINGS WITHOUT RIVALRY
"Samalin has literally written THE book on parents and anger.
--Chicago Sun Times
Don't Miss more Rave Reviews at Amazon.com!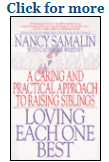 Bantam published Nancy's third book, LOVING EACH ONE BEST: A Caring and Practical Approach to Raising Siblings. Her newest book is an inspiring guide to the rewards and pitfalls of parenting more than one child. Eight chapters have been reprinted by major magazines including Parents, Family Circle, Ladies Home Journal, Good Housekeeping and Working Mother. Loving Each One Best is a Book-of-the-Month Club selection.
Buy the Kindle eBook at Amazon.com

"We recommend Nancy Samalin's book, Loving Each One Best, as a useful source of information. I have known Nancy for years and have always found her advice helpful. We have a very similar approach to child-rearing, in which light-heartedness and humor, combined with insight into the child's point of view, carry parent and child through the inevitable rough patches."
--Suzette Burdett, Director of The Village Preschool Center, an early childhood center in NYC
"There's little that drives a household more dramatically than the sibling dynamic-a subject so formidable few have had the courage to tackle it. Nancy Samalin uses her incredible experience in this wonderful book. It should be handed out as required reading as we leave the hospital with number two."
--Dr. Ron Taffel, author of PARENTING BY HEART
"Nancy Samalin has done it again. She has combined wisdom and humor, and a heavy dose of practical advice for those who find themselves dealing with the onslaught of sibling competition."
--Dr. Lawrence Balter, author of HOW TO TALK TO YOUR CHILDREN ABOUT TOUGH FAMILY MATTERS.
"Writing with her familiar blend of wit and wisdom, Nancy Samalin has produced a clear, compassionate guide to raising siblings. I learned invaluable strategies for dealing with my own two children."
--Ann Pleshette Murphy, Editor-in-Chief, Parents Magazine
Don't Miss more Rave Reviews at Amazon.com