Stop Sibling Rivalry
Books:

Loving Each One Best
A Caring and Practical Approach to Raising Siblings

Is sibling rivalry an issue in your home? Want to stop the bickering and name-calling? Need to stop kids fighting? Are you hearing "Mom, it's not fair!" Are you looking to stop sibling rivalry? Loving Each One Best will help you with these and other issues common to parents of more than one child.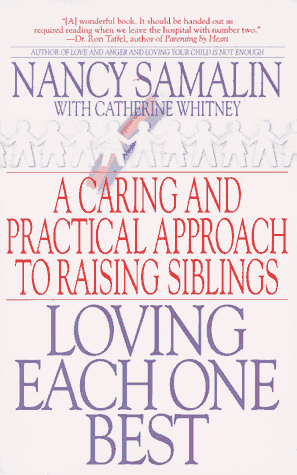 Bantam published Nancy's third book, LOVING EACH ONE BEST: A Caring and Practical Approach to Raising Siblings. This book is an inspiring guide to the rewards and pitfalls of parenting more than one child.
Supportive and uniquely empowering, Loving Each One Best goes beyond most child-care resources to address your feelings as well as your children's. It provides meaningful insights that will help you feel less isolated and more appreciated, less guilty and more competent.
"Thank you for all the work you put into your parenting books, for the many insights & practical tips they provide, for the common sense they promote, for the reassurance they provide. I read the first 20 pages at one sitting with tears streaming down my face as I had been having such a hard time with my 23 month old son & new baby. Your words struck a chord with me & helped to validate my feelings."
Amy Bean, Warba, MN
Eight chapters have been reprinted by major magazines including Parents, Family Circle, Ladies Home Journal, Good Housekeeping and Working Mother. Loving Each One Best is a Book-of-the-Month Club selection.
Read what one school director writes to each of her parents, to whom she gives a copy of Nancy's 3rd book upon the birth of their newest sibling!
Buy the Kindle eBook at Amazon.com


"You Started It! 10 Mommy No-Nos that Fuel Sibling Rivalry" from Nancy's book "Loving Each One Best".
In this book you will discover:
Ten ways to relieve your stress . . . guaranteed to diminish the demands that are wearing you out

How to introduce a new baby into the family

Ways to help Dad become a more equal parenting partner

Approaches that work to curtail sibling rivalry: fighting, bickering, name-calling, and teasing

What to do when you feel like exploding

Plus interviews with kids revealing what they really think about their brothers and sisters

Check out these free articles written by Nancy about Sibling Rivalry.

Here's what other readers have to say:
"We recommend Nancy Samalin's book, Loving Each One Best, as a useful source of information. I have known Nancy for years and have always found her advice helpful. We have a very similar approach to child-rearing, in which light-heartedness and humor, combined with insight into the child's point of view, carry parent and child through the inevitable rough patches."
--Suzette Burdett, Director of The Village Preschool Center, an early childhood center in NYC
"There's little that drives a household more dramatically than the sibling dynamic-a subject so formidable few have had the courage to tackle it. Nancy Samalin uses her incredible experience in this wonderful book. It should be handed out as required reading as we leave the hospital with number two."
--Dr. Ron Taffel, author of PARENTING BY HEART
"Nancy Samalin has done it again. She has combined wisdom and humor, and a heavy dose of practical advice for those who find themselves dealing with the onslaught of sibling competition."
--Dr. Lawrence Balter, author of HOW TO TALK TO YOUR CHILDREN ABOUT TOUGH FAMILY MATTERS.
"Writing with her familiar blend of wit and wisdom, Nancy Samalin has produced a clear, compassionate guide to raising siblings. I learned invaluable strategies for dealing with my own two children."
--Ann Pleshette Murphy, Editor-in-Chief, Parents Magazine
Don't Miss more Rave Reviews at Amazon.com!
Get the help you need to stop sibling rivalry in your home today!