Resources & Tips


Tips | Solutions for Parents |FAQ's
Nancy:
Tips: These articles contain helpful hints on the most common parenting questions
Solutions to Parents' FAQs
If you don't find what you need here, try our parent FAQ's.

•Antidotes to Spoiling Kids
No parent sets out to raise a spoiled child. Here are antidotes to spoiling kids . . . and not just over the holidays.
•How to Know if your Child is Spoiled
Are you caught in these spoiling traps? Find out the traits of a spoiled child and learn to show love without spoiling.
•Yes, you can get your kid to stop whining (Work and Family Life, Feb 2011)
Find out how to stop them and when to listen.
Below is a partial list of Nancy Samalin's articles which have appeared in Bottom Line, the nation's largest consumer newsletter. Nancy has been a regular contributor to Bottom Line and is a member of their panel of experts.
Nancy's Support of "Mean Mom!"
Nancy who has been offering workshops for parents of teens in the NYC area for over two decades applauds this mean Mom for having reasonable (possible life-saving) rules and then following through with the consequences. She is not afraid of whether or not her son likes her--it's not her job to be his best friend nor his grandmother. More parents need to follow up with consequences than make empty threats that give them zero credibility in their children's eyes.
"We need to be strict with behavior and permissive with feelings."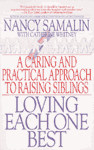 • Sibling Rivalry
Learn nine solutions for handling sibling rivalry.

• Have Your Kids Take the Sibling Survey
This unique questionnaire for parents to give their children will help parents better understand sibling and family relationships and offer clues to how kids really feel about their brothers and sisters.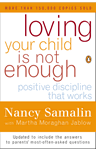 •Positive Discipline
Positive discipline alternatives to yelling, nagging, bribing, threatening and punishing.
•Avoid Spanking
Spare the rod: to spank or not to spank?
•The Discipline Dilemma
When you and your spouse disagree on discipline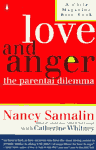 • Eight Weapons in the War on Anger
Nancy offers parents & Educators effective skills to handle their anger without hurting or insulting kids.
"All loving parents get angry at their kids; the goal is to express it without hurting or insulting them."


Valuable Links
Common Sense Media (www.commonsensemedia.org/ ) - a free, indispensable resource which gives parents objective information on every kind of media- TV, movies, internet, videos et al to enable them to be well informed about what is appropriate viewing for their children and teens.

Frugal Mama: (www.frugal-mama.com)The thinking woman's guide to saving money and making life better.