Parenting Speaker, Nancy Samalin, M.S.,
is a pioneer in the field of parent education.
She is one of the leading
keynote speakers
on parenting issues in the US, Canada & abroad, known for her practical, concrete advice combined with a highly entertaining delivery.

She is the founder and director of
PARENT GUIDANCE WORKSHOPS
, located in New York City, and has been conducting
parenting education workshops
for parents of toddlers through teens through several decades.
She is a highly-acclaimed author of four best-selling parenting books and frequent guest on national TV & radio.

"When you say no, if even a tiny little bit of you means 'well, maybe', kids are like bloodhounds. They'll sniff it out and wear you down. I call that the 'sandpaper technique'".
Nancy Samalin
Do you find yourself saying things like . . .
I was the perfect parent until my children were born.
I never knew I had a temper until I had kids.
I feel like my kids don't appreciate me.
How do I stop bribing my kids?
If this sounds familiar, Nancy's workshops are the answer.
5 sessions beginning Wednesday, Jan 21:
The Brick Church School
For parents of young children

half-day Saturday workshop:
Feb 21, 2015 - parents of 3-10 year olds

Register early as classes fill quickly.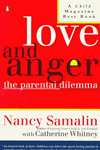 LOVING YOUR CHILD IS NOT ENOUGH: Positive Discipline that Works
LOVE & ANGER: THE PARENTAL DILEMMA
LOVING EACH ONE BEST: A Caring and Practical Approach to
Raising Siblings
LOVING WITHOUT SPOILING: And 100 Other Timeless Tips for Raising Terrific Kids
Nancy's books, which have been translated into many languages, are available in paperback, Kindle and NOOK and can be purchased at Amazon.com and other retailers.


Nancy will be the keynote speaker for the ECDC luncheon at the Colony Club, NYC on February 11. Tickets still available.

The Today Show with Matt Lauer
Is your kid a spoiled brat


How to Create a Spoiled Brat: 9 Parenting No-Nos

10 Mommy No-Nos that Fuel Sibling Rivalry

See what Common Ground - a coalition of Bay Area schools says about Nancy as a speaker.
Nancy's Bio
Testimonials
TV Appearances, Publications & Journals